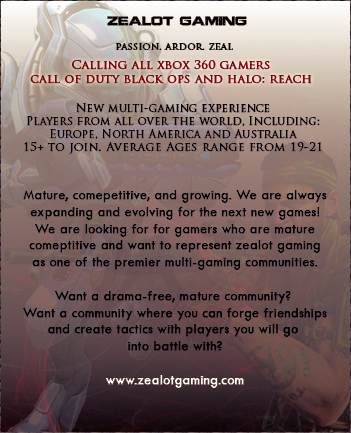 Zealot Gaming is recruiting gamers who are mature. You must fill out an application to get in, so we get to know you. Those who
are let in, usually are very easy going and wanting to strive to put Zealot Gaming on the map as one of the top gaming communities you can be in.
We are fairly new and have a good member base from our PC teams that are undefeated and doing quite well. We are looking
to get into console as a lot of us are console gamers and need new members.
As the post says, Call of Duty and Halo atm, but if you want to join a nice community in search of other Xbox 360 gamers, feel free to. Apply, follow the process and a member from our community will get in touch with you. If you are a Gamebattles team and looking for a forum or need somewhere to discuss strategies, we can host you too as long as you represent Zealot Gaming.
Any other questions?
Contact Info:
*** Email address is removed for privacy *** or post here
Thanks,
[zG]Legit
Co-Founder of Zealot Gaming