Today I bring you some goodies, for those of you who care enough about the third instalment of Saints Row and its Xbox Live Arcade title.
First, let's start with the XBLA title. NOTE: don't go looking on the XBLM for this. You will not find it. It is hidden, only visible to developers who have an XDK and access to PartnerNet.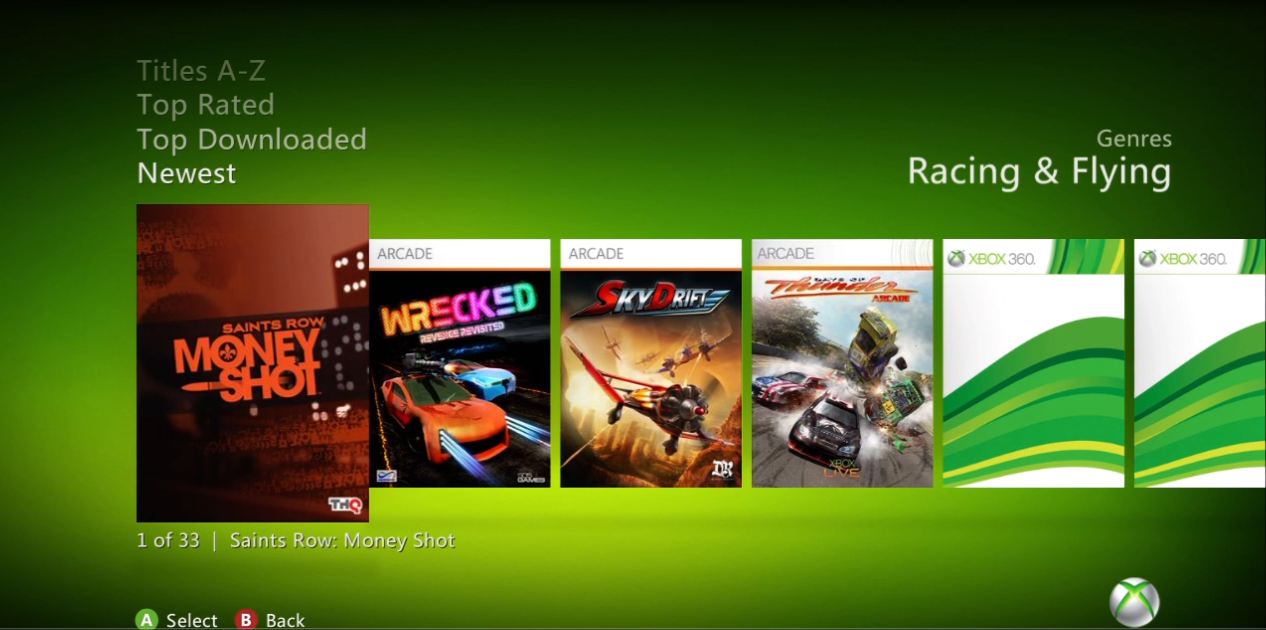 The original title, unless this is an entire different game, went by the name of "Saints Row: Drive By". While it is not confirmed, it is clearly visible, somewhere, where I will not discuss due to the forums Terms of Use.
And then, the planned DLC, a whole years worth, visible for the world to see. Now, I am really mad that the game has yet to go gold, but they have already sorted out their money-making scheme. I have already angered plenty of people across various forums, but they can't seem to grasp that the co-op pack COULD be a free download.
[quote]
Co-Op Pack
Sometimes all it takes is a friend at your back to help you through the toughest situations. With the Co-Op Pack you can do just that. Play entirely through Saints Row: The Third with your co-op partner and together help the Saints climb once more to the top.
Bloodsucker Pack
Keep the cash flowin' with the Bloodsucker Pack. You'll earn respect and get cash bonuses but it doesn't stop there! You also get payments, money drop, and the ability to regain health through your human shields with The Dracula skill.
Explosive Combat Pack
Throw on your combat gear and add a weapon to your arsenal with the Explosive Combat Pack. The M2 Grenade Launcher sends a plethora of mass explosions right at your enemy, and the Future Soldier Outfit is perfect for any battle.
[NOT SURE]
Go super ballistic with the FunTime! Pack which gives you a new weapon, vehicle, and outfit. Terrorize your enemies by sucking them up and shooting them out with the Genki Man-A-Pult! Pull the trigger on the Mollusk Launcher and unleash the power of an exploding, mind-controlling octopus! And make sure you put on your FunTime! Outfit, because who doesn't want to look like Professor Genki!
Invincible Pack
More cheats than you'll know what to do with. Never worry about dying or running out of ammo! Experience the thrill of Zero Gravity and unlock the Get Down Cheat that makes you ultra limber. Super Saints gives you better guns and better health while Ultimate Clip ensures that you're always ready to fire. Get Infinite Mass for your vehicle plus Super Explosions and you'll be ready for anything!
[NOT SURE]
The ultimate collection of goods for Nyte Blayde fans! Look just like a Nyte Blayde star with exact replicas of the Altar Boy and Bloody Cannoness Outfits. Experience the excitement of Nyte Blayde's adventures as you get behind the wheel of the Nyte Blayde Mobile vehicle. The top off your full Nyte Blayde experience by zipping around town on the Bloody Cannoness Bike!
Shark Attack Pack
Add to your wardrobe and weapon cache with the Shark Attack Pack. The Shark-O-Matic shoots out a steady stream of slimy fish guts, attracting whatever may lurk under the streets of Steelport. And if that isn't enough, the Shark Bite Hat allows you to experience the feeling of being caught in the jaws of a great white.
Special Ops Vehicle Pack
A collection of fully equipped military vehicles for your garage. The Saints VTOL features jet and hover modes making airborne attacks easy and stylish. The Saints Tank and Saints MRAP are the ultimate in armored warfare, showing your opponents the Saints aren't to be messed with.
Steelport Gangs Pack
Get some new gangwear for your wardrobe with six new outfits. Disguise yourself as a Morningstar Solider or blend in with the Luchador Specialist crowd. You can even try out the Decker cyberpunk style and get in touch with your inner techno-goth!
Unlockable Pack
The Unlockable Pack gives access to all unlockable items, upgrades and bonuses that weren't chosen during normal gameplay. Now you can have it all!
Warrior Pack
The Warrior Pack adds four combat-ready outfits to your wardrobe. Antiques never go out of style with the Knight of Steelport Armor, or go for something a little more revealing with the Warrior Princess outfit. Bring out your inner samurai with the Kabuki Warrior Outfit or choose the Intergalactic Warrior Outfit for an out of this world look.
Z Style Pack
Live the high life of Zimos himself by adding a weapon to your arsenal and an outfit to your wardrobe with the Z Style Pack. You won't go unnoticed in the bold and pimpalicious outfit good enough to be called The "Z". Arm yourself with the super flashy Bling Shotgun and your bullets won't be the only thing that makes an impact.
[/quote]
Source, which includes the original source of the leak - http://www.thegx.co/news/1604/saints-row-the-third-to-come-packed-with-dlc/