DigitalSpy story here :-
Xbox 360 Wireless Speed Wheel for October
Tuesday, June 14 2011, 15:20 BST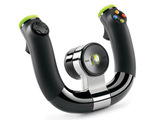 The Wireless Speed Wheel has been announced for Xbox 360.
Designed with both racing novices and experts in mind, the Wireless Speed Wheel features standard control buttons, back triggers and haptic rumble feedback.
Lights on the device will also be activated for certain titles, such as
Forza Motorsport 4
later this year.
"The new Xbox 360 Wireless Speed Wheel balances the realism of a wheel with the feel of a controller for greater user edge in game play," read a press release.
"With trigger buttons for gas and brake, combined with a rumble feedback, the Xbox 360 Wireless Speed Wheel provides intuitive standard controller buttons that immerse the driver into the game, whether you like to white knuckle it down the race track with your hands at '10 and 2' or '9 and 3'."
The Wireless Speed Wheel will be available exclusively on Xbox 360 for £44.99 this October.
> Forza 4 launch bonuses, cover revealed
View Wireless Speed Wheel screenshots below: