'Catherine' adventure puzzle game announced for Europe
Friday, July 22 2011, 10:52 BST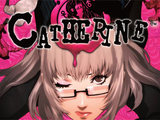 Catherine
will be released in Europe, it has been confirmed.
Deep Silver
will make the adventure puzzle game available in PAL regions on multiple platforms.
"
Catherine
is something new, fresh and exciting; unlike anything else in the gaming world - a unique mixture of genres," said CEO Klemens Kundratitz.
"This [publishing] agreement proves once again that games published under the Deep Silver label are not 'more of the same', 'run of the mill' productions."
Atlus
president Shinichi Suzuki added: "ATLUS is very pleased to collaborate with an experienced, passionate publisher like Deep Silver for the release of
Catherine
in Europe.
"They share our belief that
Catherine
's unprecedented exploration of the psychology and horrors of commitment and relationships, its breathtaking visual design, and its frantic action-adventure/puzzle gameplay make for a thought-provoking, entertaining experience that cannot be missed."
Catherine
sees salaryman Vincent become pressured into marrying childhood friend Katherine. However, after meeting the mysterious Catherine at a bar, his perception of reality blurs together with nightmarish dreams.
Catherine
was released on Xbox 360 and PlayStation 3 in
North America
earlier this month.